MAMMOTH MT., CALIF.
Definitions Used in Resort Guides
Other Inside Tracks Articles
Published April 1998. This article does not reflect any lift upgrades or terrain expansions since then.
| | | | | | |
| --- | --- | --- | --- | --- | --- |
| Terrain Ability | Yellow | Black | Red | Blue | Green |
| Mammoth | 7% | 21% | 32% | 31% | 9% |
Mammoth has a variety and balance of ski runs which is exceeded only by Vail in the United States. There are three layers of terrain, expert at the top, upper intermediate in the middle and beginner and low intermediate at the bottom. The top and middle layers are above timberline. Mammoth is also distinguished by its superb snow preservation, superior to any other West Coast ski area and comparable to the best in the Rockies.
Lift Serviced
Season
Percent
Percent
Average
SNOW CONDITIONS
Altitude
Season
Standard
High Mths
Low Mths
Maximum
Direction of Exposure
Range
Average
Deviation
GE 90 in.
LT 30 in.
Base Depth
North
East
West
South
Mammoth Mtn, Calif. 9,600 or 8,900
7,953-11,053
353
110
30%
28%
132
65%
22%
10%
3%
Mammoth Mountain is on the Sierra crest about 150 miles south of Tahoe with a Main Lodge (8,900 feet) snowfall average of 353 inches. The snowfall is subject to California's notorious volatility, which means the area will be close to full operation at Thanksgiving in the best 25% of seasons, but will be marginal to poor well past Christmas in the worst 25% of seasons. A five foot base is needed to get most of the top runs open, although the four most open bowls can be negotiated with somewhat less snow.
The altitude range of 8,000 to 11,000 feet is unique to the Pacific states and is comparable to Aspen, Vail or Snowbird. Therefore Mammoth will still receive snow from the "Pineapple Express" central Pacific storms which bring rain to Tahoe and the Pacific Northwest. Snowfall within the area is lower only on about 10% of the area which is below 8,800 feet. There are some east (Chair 9 and the Warming Hut II area) and west (Chair 14) facing runs, but about two thirds of the area faces north. Nearly all the steep runs drop north from a long ridge at the top of the mountain. Most of these runs, plus much of Chairs 3 and 5, will remain packed powder into April, and only Snowbird would likely offer as much terrain with winter conditions as far into the spring. In March Mammoth is nearly as reliable as Utah, with only 1977 out of the last 30 years failing to offer full operation. The snow preservation has been good enough to keep at least half of the ski terrain open until Memorial Day in every season with 200 inches of snowfall or more. With about 425 inches (about one third probability), skiing will last until July 4 on about a quarter of the mountain (This is still 1,000 acres and 2,100 vertical feet). By May, the groomed runs on the lower mountain will be salted with ammonium nitrate to keep the snow from becoming slushy.
The top of Mammoth, plus Chairs 9 and 14, is closed for wind or avalanche danger 15%-20% of the time before April. In the really big storms, the middle layer (Chairs 1,3,5 and 22) will close also. In this situation it's worth considering the half hour drive to June Mt., which gets about two thirds of Mammoth's snowfall, much less wind and has trees to the top. Wind is chronic on many of the above timberline lifts, but it does have positive effects. The prevailing winds blow snow from the backside into the huge cornices on top and add to the upper mountain base depths which extend the season. The humidity is lower than other Pacific areas, slowing the transition to spring conditions.
Terrain Type:
Cruising: There are abundant cruising runs, although they tend to come in 1,000 vertical increments because of the layered topography. The lower layer is intensively groomed with blue cruising runs available across its full 5 mile breadth. There will be a few steeper groomed lines on Chairs 3 and 5. The longer groomed runs are St. Anton from Chair 3 to the Main Lodge and Gold Hill on Chair 9. The latter faces southeast and should be timed for morning corn in the spring.
Moguls: Mammoth's mogul runs are generally in 500-800 vertical sections of chairs 3 and 5 and on Scotty's, Cornice and Climax, the most popular runs off the top. The most challenging mogul run is Viva, which is to the skier's left of Chair 22 for 1,400 vertical. It is very steep and protected on the upper half, and crosses a catwalk to a moderately pitched lower section which is exposed to morning sun.
Steeps: There is great variety of steep skiing off the full 2 mile breadth of the top ridgeline. These runs are typically yellow or black for about 500 vertical feet and then more moderately pitched on the lower half. Dave's, Cornice and Scotty's are the first ones to try, with Climax being the next step up in challenge. The Paranoid area, a short hike beyond Scotty's, is comparable to Climax but without moguls and sustains its pitch for about 1,000 vertical. Wipe Out and Drop Out, on either side of Chair 23, are the first step into the yellow range of steep. With an 8 foot base the most extreme runs such as Hangman's, Huevos Grande and Philippe's will open. There is also steep skiing off Chair 22, with less margin for error because the runs are narrowly defined by trees (the east facing runs near the lift) or rocks (the north facing Avalanche chutes).
Wide Open Spaces: Mammoth is perhaps North America's premier ski area for open bowl skiing (Whistler has more acreage, but Mammoth's snow conditions are more consistent). Chairs 3 and 5 are the most popular areas, accessible to a wide range of skiers with countless fall lines from which to choose. Not to be overlooked are the broad expanses of Chairs 9 (east facing) and 14 (west facing), which are prime corn snow areas in the spring. The top layer detailed above is completely treeless.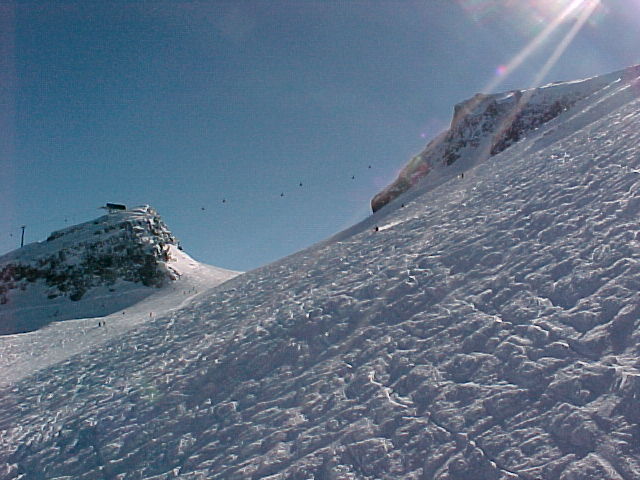 Panorama Gondola, viewed from Chair 23 at noon
Trees: The trees are mostly in the lowest layer where the pitch is fairly flat. Chair 22 is the one really steep area with trees. There are also some good trees in the lower and outlying sections of Chairs 9, 12 and 14. Most of the trees are nicely spaced for skiing.
Powder: Mammoth is not an ideal mountain for powder because its best terrain will be closed during storms. When the top finally opens, sometimes the new snow will be windpacked or avalanche blasted rather than deep powder. The deep snow will be in areas mentioned above (the protected parts off Chairs 9, 12 and 14, plus Chair 22 for experts).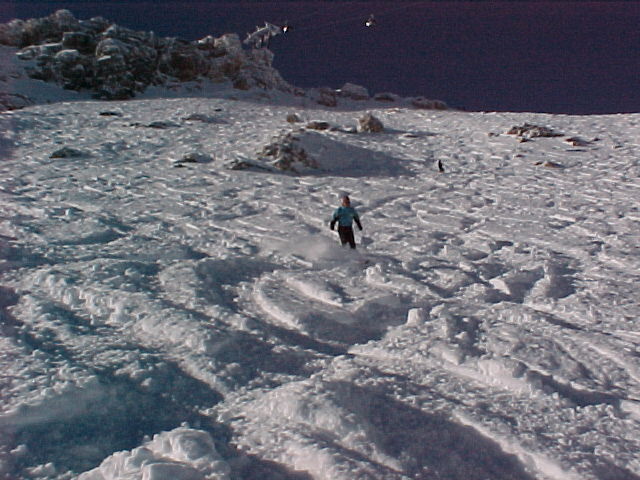 Super Bowl Sunday 2001: morning powder on Climax
Hiking and Backcountry: Directly south of Mammoth mountain (behind Dave's Run and Chair 9) are 5 lakes, popular for fishing in summer and cross country skiing in winter. The most famous out of bounds ski run is Hole in the Wall, which goes under a natural bridge in the cliff band above Twin Lakes. For full day trips, the Sherwin Bowls, which rise over 3,000 feet south of the town of Mammoth Lakes and may be developed as the new Snowcreek ski area, are a favorite of local backcountry skiers.
Crowds: Mammoth acquired a negative reputation for crowds in the 1960's and 1970's, when weekend lift lines on the gondola and a few of the 16 double chairs would be 45 minutes or more. Owner Dave McCoy relieved the problem by expanding lift capacity (now 27 chairs including two high speed quads). Mammoth's business is 95% from southern California and is highly concentrated on the weekends. The current lift system allows advanced skiers to ski 25,000 vertical on a weekend day, with Chairs 3, 5 and the gondola having the longest lift lines, 15 to 20 minutes at peak hours. Midweek, most chairs will have minimal waiting in line.
Skier density can be high on the major runs in front of the Main Lodge and Warming Hut II, but there are several alternative runs to reach both facilities. In general Mammoth spreads people around well, and density is low in outlying areas like Chairs 9, 12 and 14. On busy days consider getting on the mountain at Chair 2, 10, 4, or 15 instead of at the Main Lodge or Warming Hut II.
Intermediates: Mammoth is exceeded in the quality and variety of intermediate terrain only by Vail, where the runs are longer. Mammoth is the best mountain in North America to learn steep skiing because 1.) The upper bowls are so wide, allowing more room to maneuver with smaller moguls. 2.) On the major bowls, if you fall and slide, there are no trees or rocks to hit. and 3.) The upper mountain snow conditions are consistently packed powder, with ice or slush a rarity before mid-April.
Novices: There are green or easy blue runs all the way across the lower mountain from Chair 11 at the Main Lodge to Chair 15 beyond Warming Hut II. These runs do cross some heavily trafficked areas, and there are no easy runs on the upper two layers. Beginners should consider visiting June Mt., which is extremely uncrowded and has novice runs from the top of two peaks, including panoramic Silverado, over 2 miles long.
Children: There is day care in the Mammoth Mt. Inn, across the street from the Main Lodge. New skiers must be 4 years old for the Funland program and 6 years old for regular ski school. Free skiing children should be carefully supervised on such a large mountain with base areas spread over 5 miles.
Most lodging is in the town of Mammoth Lakes, 5 miles from the Main Lodge. The Mammoth Mt. Inn is the only facility at the Main Lodge, but there are several condos within walking distance of Warming Hut II and Chair 15. As a primarily weekend resort, Mammoth Lakes is spread out and nearly everyone has a car. Mammoth currently records about 1 million skier visits in a good season, down almost a third from the peak attendance in 1982 and 1986. Many of the baby boom weekenders of the 1970's and 1980's either ski less frequently or fly to destination resorts on longer trips. Mammoth is 320 miles north of Los Angeles, through desert for all but the final 20 miles, or 150 miles south of Reno. The drive from Reno is high altitude, but east of the Sierra Crest and therefore much less subject to storm closure than the passes between Tahoe and Sacramento. Destination visitors to Tahoe should consider a few days at Mammoth, particularly in March and later when Mammoth's snow conditions will nearly always be better.