</P>
Mt. Baldy, Calif.
Definitions Used in Resort Guides
Other Inside Tracks Articles
Published March 1999 with pictures from 2001. There have not been any lift upgrades or terrain expansions as of 2006.
| | | | | | |
| --- | --- | --- | --- | --- | --- |
| Terrain Ability | Yellow | Black | Red | Blue | Green |
| Mt. Baldy | 6% | 40% | 33% | 18% | 3% |
Mt. Baldy, located in the San Gabriel Mountains a little over an hour from downtown Los Angeles, offers more expert terrain than the other 8 Southern California ski areas combined. As the majority of the area is natural snow dependent in a region of wildly erratic snowfall, it is essential to have reliable knowledge of current conditions. An excellent source of information is skier-submitted reports on the Southland Ski Server at http://www.cccd.edu/~markb/ski/reports.html.
Baldy has 4 double chairlifts. Chair 1 rises from the parking lot and ticket booth at 6,500 feet through a canyon to the day lodge and Notch restaurant at 7,800 feet. The upper intermediate run under Chair 1 faces southwest. In warm or rainy weather a creek forms in the lower canyon near the base of chair 1. The best skiing on Chair 1 is found by traversing south along a long ridgeline and then dropping northwest into the canyon on the steep, 1000+ vertical Nightmare or Bentleyís runs or through the well-spaced trees.
From the Notch, Chair 4 is visible rising northwest for 800 vertical up a sunny ridgeline, with 2 usually groomed runs, Roller Coaster and Turkey Shoot. In major storms, the wind forms a natural quarterpipe on the skierís right of Turkey Shoot for nearly its entire length.
In the opposite direction, ski through the short beginnerís area to the base of Thunder Mt., which contains Chair 3 and Mt. Baldyís most reliable terrain (7,600-8,600 altitude, north and west exposures). Thunder has two upper intermediate groomed runs, Robinís and Skyline, a half-mile long fire road to the low intermediate Bonanza run, moguls near the lift on Emileís and Liftline and almost unlimited tree skiing between the cut runs and dropping off the fire road.
The beginner chair 2 takes you back to the Notch from the base of Thunder. If lower mountain coverage is inadequate, download Chair 1 to the parking lot.
Lift Serviced

Season

Percent

Percent

Average

SNOW CONDITIONS

Altitude

Season

Standard

High Mths

Low Mths

Maximum

Direction of Exposure

Range

Average

Deviation

GE 90 in.

LT 30 in.

Base Depth

North

East

West

South

Mt. Baldy, Calif. 7,600

6,500-8,600

170

75

8%

55%

N/A

45%

5%

35%

15%
The variability of snowfall in Southern California is the greatest in North America. Season snowfall has ranged from one foot during the entire 1983-84 season to about 350 inches in the big El Nino years of 1982-83 and 1997-98. In the worst third of ski seasons, the Chair 1 runs never have enough snow to open. Only in the best 20% of seasons will Chair 1 be skiable as long as 2 months. The rest of the seasons will have just a few weeks following major storms. Chair 4 faces south and will burn off with a few weeks of warm weather. Thunder Mt. is very different. Once it is covered, the snow preserves better than in most Southern California ski areas due to steep north exposure and a few hundred feet higher elevation. Consequently, Thunder will have good spring skiing to late April or early May in high snow years.
Baldy has snowmaking in its beginner run and on Robinís and Skyline to maintain good coverage in the busiest areas. During warmer storms, the upper mountain chairs may get more snow and less rain than elsewhere in Southern California. However, the creek at the base will make skiing down to Chair 1 very difficult.
During storms there is usually a lot of wind, which may strip exposed areas but leave a lot of blown in powder in the more sheltered glades. Fog is also more likely than at other L.A. local areas. On clear days, there are panoramic views of over a hundred miles: north across the Mojave Desert to the Sierra foothills and south across the L.A. basin to Catalina and San Clemente Islands.
Terrain Type:
Cruising: Robinís and Skyline are good cruisers, but if thatís your priority, thereís much more at Big Bear or Mountain High.
Moguls: Emileís is usually Southern Californiaís longest mogul run at 1,000 vertical. Liftline and Goldridge on Thunder Mt. are good too. In high snow years bumps can develop on the Chair 1 runs also.
Steeps: Baldy has far more steep terrain than other L. A. local areas, both on Thunder Mt. and Chair 1. Nightmare is the most sustained, 36 degrees for 1,000 vertical.
Trees: Southern Californiaís hot and dry summers cause natural spacing between trees with very little underbrush. With sufficient snow coverage, nearly all of the terrain between cut runs at Mt. Baldy is skiable. From Thunder Mt., South Bowl is a large natural glade beyond Skyline, ending in a several hundred yard traverse back to Chair 3.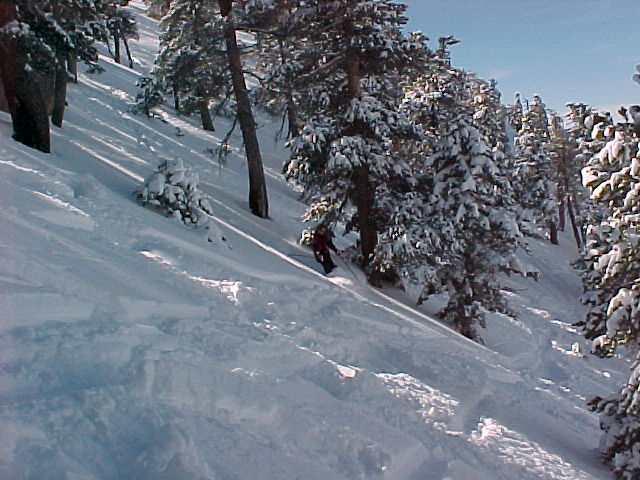 Is it Steamboat? Fernie? No, it's my son Adam getting fresh tracks in South Bowl Jan. 13, 2001.
Powder: The steep glades provide Southern Californiaís best powder skiing after storms. Thunderís terrain is expansive enough for knowledgeable skiers to get at least half a day of fresh tracks, with more available if Chair 1 has powder also. With the proximity to L. A., nearly everything in-bounds will get tracked out during the first day open after new snow. To appreciate Baldy's maximum powder potential, check out Mt. Baldy Pictures from 2/14/01.
Hiking and Backcountry: There are several exciting backcountry routes accessible from the ski area, only a few of which lead back to the parking lot or access road. Area boundaries should be respected during storms, as there have been quite a few avalanche deaths over the years. There is over 2,000 vertical of north facing terrain behind Chair 4, with pending lift service awaiting Forest Service approval. Meanwhile, there are occasional guided tours in late spring of high snow years.
Crowds: With its erratic snow history, limited snowmaking and expert orientation, Mt. Baldy is not a great commercial success. When the snow is good, Thunder Mt. will have a considerable lift line, perhaps 20 minutes from 10AM to 3PM on weekends. Experts can always escape crowds by skiing Chair 1, conditions permitting. With limited staff, there can also be delays in digging out and opening lifts after big storms. Check with their office at (909) 982-0800 as well as the snow phone (909) 981-3344 if unsure of lift or road opening times.
Skier density is much lower than elsewhere in Southern California due to both limited lift capacity and expansive terrain. Only the area around the base of Thunder gets congested.
Intermediates: It pays to have an adventurous attitude, as there is not a lot of grooming and surface conditions are variable. There is a "retro" ambience similar to Alta or Mad River Glen.
Novices: Very marginal. The beginner area is short and subject to a lot of advanced skier traffic headed for the Thunder lift. The rental shop is up at the Notch, so youíll save time by renting ahead at an L.A. area ski shop.
Children: Entirely dependent on ability. They should be comfortable on red rated runs.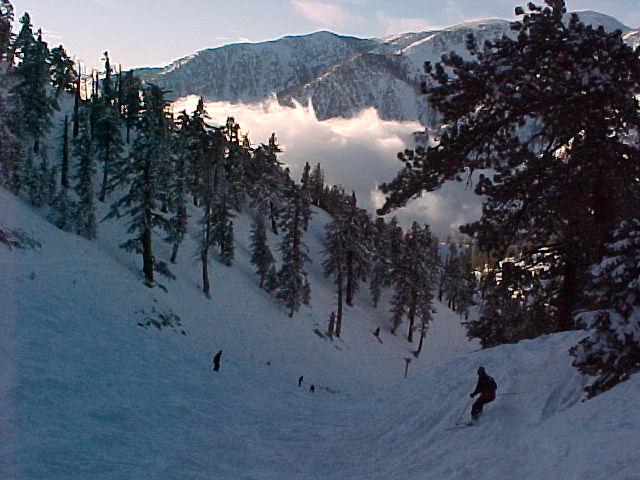 Last run on Thunder as fog rolls into the Notch
10,000 foot Baldy Peak is behind trees at upper right